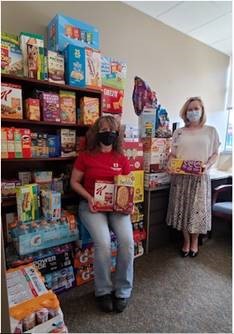 Pictured: Becky Graham delivering supplies to Karen S. Johnson, Chief Development Officer, WMHS Foundation-UPMC Western MD
In partnership with the Maryland Bankers Association's Emerging Leader program, our own Becky Graham, VP & Business Intelligence Manager, organized a fundraiser in support of our healthcare heroes. The goal was for First United to show our support as a team to local hospital workers that have endured tremendous stress and hardship throughout the pandemic.
First United associates donated $1,432 and the Bank matched up to $1,000 for a grand total of $2,432. All donations went toward purchasing snacks and energy drinks for frontline healthcare heroes in recognition and support of their emotional and physical sacrifices.
Thanks to all those associates that donated, shopped, and delivered the supplies. And thank you to all our local healthcare workers!