Credit Insights, is a new credit reporting, monitoring, and education tool offered in our Mobile App! First United has partnered with SavvyMoney, bringing you a direct view into your credit reporting information. This valuable tool will break down and grade each section of your report and provide specific insights to best manage your score. And, unlike many other tools, Credit Insights can provide your real-time credit score with a daily refresh!
Understand the factors that impact your score
Receive daily credit monitoring alerts for major changes
Identify credit bureau errors
Work toward your financial goals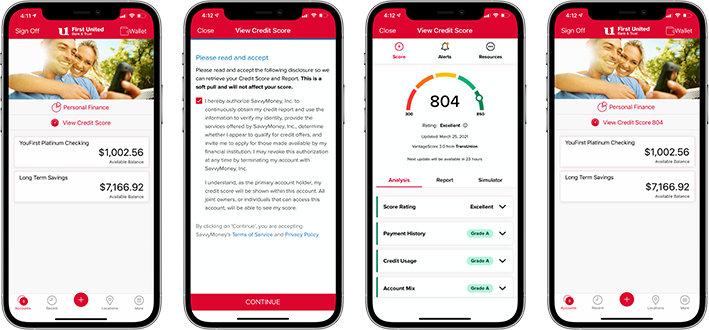 Disclosures
First United Bank & Trust has partnered with Savvymoney to offer Credit Insights to customers, terms and conditions for this service are available within our Mobile App, once enrollment is complete. Credit profile pulled from Transunion and uses VantageScore3.0. Checking Credit Score is a "soft inquiry", which does not affect customer's credit score. This service is available on smartphone apps, version 5.0 and higher. This feature will not display on tablets at this time.
Transfers and withdrawals from certain types of accounts to another account or to third parties by pre-authorized, automatic, telephone, computer transfers, check, draft, or similar order to third parties is limited to six (6) per month or statement cycle. Fees may apply. Please ask for details or a copy of the current fee schedule by contacting Customer Service Center at 1-888-692-2654.