Personal Finance Tool – Coming Soon!
Personal Finance is a digital money management tool that empowers you to take control of your finances and simplify your life. This great new tool is easily accessible through your First United Intranet or Mobile Banking account.
Access all your financial accounts in one place
Get powerful insights on where, when, and how you spend
Tailor your budgets to your life by creating custom budget categories
Create, manage, and visualize your goals
Access your accounts anytime, anywhere using your First United Mobile Banking app
Take budgeting and money management to the next level.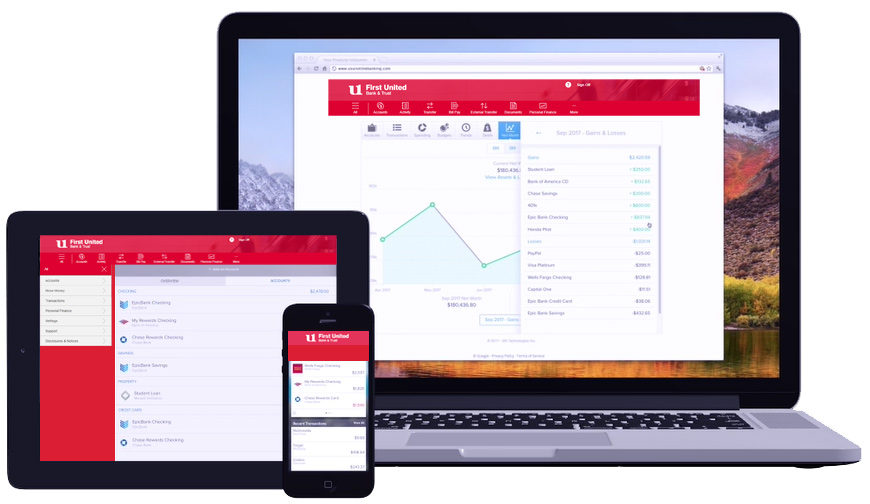 Watch this overview and get started today.
The Personal Finance tool is offered through Internet and Mobile Banking. Watch this video for a brief overview of the tool. Keep in mind, in order to view the Personal Finance tool using our Mobile Banking App, you must first be enrolled in Online Banking. Accessing your personal finances using our digital solutions is one more way First United is helping you manage all of your money, all of the time.
Getting Started With Accounts
Financial Aggregation Explained
Understanding Your Spending
Disclosures
Click here to read the Personal Finance Terms & Conditions.
Transfers and withdrawals from certain types of accounts to another account or to third parties by pre-authorized, automatic, telephone, computer transfers, check, draft, or similar order to third parties is limited to six (6) per month or statement cycle. Fees may apply. Please ask for details or a copy of the current fee schedule by contacting Customer Service Center at 1-888-692-2654.