YouFirst Plus Checking
An incredible checking account with tremendous benefits! Your checking account is the base of operations for your financial life. Now we made it even more powerful. YouFirst Plus does more than help you manage your finances. This winning solution provides the means to financial wellness, good health, adventure, safety, peace of mind and so much more.
Reordering Checks?
Use Routing Number: 052100987
Shop Local, Save Local
After some gentle persuasion by my kids to go to dinner at Buffalo Wild Wings, I agreed to go so I could use the $5 off coupon they sent by mail. After arriving, I noticed the coupon was not valid on Tuesdays…and today was Tuesday.
Just then, my phone dinged with an alert from my YouFirst app with a deal at Buffalo Wild Wings! $5 off, no restrictions. Score! – Ashley
Travel Savings
My husband and I went to Chicago recently and used the YouFirst app for a TON of deals and discounts throughout the surrounding areas. Oh, and we even used it as we traveled through several states on our way to Chicago! We saved a lot of money using the YouFirst app! – Melissa
Travel Savings
Going on vacation in a few weeks and needed to rent a car at the airport. I always use Expedia, but I thought I would check out BaZing before booking. Ching ching – it would have cost me $295 but with BaZing,  it was $197. My $98 savings covers more than 1 year of the membership cost!
Cell Phone Protection
My cell phone was messing up so I had to go to the Apple Store to purchase a new phone. I paid close to $400 in cash. Luckily I had the YouFirst checking account so I filed a claim for the Cell Phone Protection plan. Weeks later I received a $200 check. Thank you for helping me save so much money!! – Heather E.
Roadside Assistance
A family member's car recently broke down and I offered my YouFirst Roadside Assistance to secure a tow to the mechanic. I didn't pay a dime out of pocket! I chose cancel my AAA Membership, and the savings from both covers my membership fee for at least 2 years! Woohoo!!
Shop Local, Save Local
I saved $10 on bowling, $20 on mini-golf and $35 on groceries in one week with the YouFirst app! – Giuseppe C
Travel Savings
The hotel discounts through the YouFirst app have helped me save $75 for getaway weekends with my honey! – Kariann K
Shop Local, Save Local
My son wanted to play mini golf for his birthday, so we headed to our favorite local place, Funland. When we pulled into the lot, I received a pop-up notification for a discount on a round of mini golf. I simply showed the cashier my phone and she entered the discount. Super easy to use! I have found so many local discounts and started tracking my savings in my YouFirst app. – Brandi
Shop Local, Save Local
My sister has 4 small children and I help her with grocery shopping. I have helped her save over $5 just on diapers using the grocery store coupons in the YouFirst app! – Sara M.
Travel Savings
I had to travel for work this week, so I immediately jumped on my YouFirst app. Not only was I able to book my hotel through the site and save $20, but I also saved $5 on my meal that night by finding a local deal when I arrived!  I'm happy and my business is happy for the savings I got with YouFirst! Thank you! – Bethany H
Overall Benefit
This is an incredibly valuable service. I saved over $20 last month alone. And the peace of mind protection for me and my family is a tremendous benefit.
Shop Local, Save Local
I was watching my nephew for the weekend and found some great coupons for Chuck E. Cheese. We had tons of fun and saved lots of money. -Dean A
Health Savings
My daughter was able to use the health savings discount card for her prescription and only paid $16 instead of $100! – Tina G.
Shop Local, Save Local
As I prepared for summer, I planned to stop at a nursery to load up with mulch, trees, shrubs and flowers. The YouFirst app alerted me to a local nursery discount of 10% off. I decided to stop there and saved $35. Thanks First United! -Sammi H
Roadside Assistance
Just saved $80 last night by using the roadside assistance! – Kayla
Shop Local, Save Local
I save all the time using my YouFirst app! I love the coupons for diapers! My daughter will be 7 months old and I have found great coupons for her diapers every time on I check! That really helps out because diapers are so expensive these days! Every little bit counts!! Also used the AutoZone discount for parts for my husband's truck! So great. – Brittany H.
Cell Phone Protection
Long Story Short, my son's phone fell out of his pocket while mowing the grass. It was trapped our mower and completely unusable. I used our cell phone carrier protection plan for the replacement, then filed a claim with BaZing. I received a reimbursement check within 2 weeks and no longer worry about where the phone goes with my teenager! – Mindy
Shop Local, Save Local
On a recent summer day, I took my mom on an outing. After checking my YourFirst app, I found a 2 for $5 ice cream coupon, so I took her out for her favorite peanut butter ice cream. -Rhonda W
Roadside Assistance
On a recent trip to Hershey Park, we locked our car keys in the trunk. Luckily, I remember discussing roadside assistance with our checking account. Thanks to that great benefit, we were able to get a locksmith to retrieve the keys and continue on with our vacation quickly and easily! -Eileen F.
Health Savings
We just moved to the area and due to the waiting period at my husband's job, we don't have medical insurance yet. I used the health savings card in the YouFirst app on a prescription and saved $18! -Renea D
Travel Savings
Thanks to BaZing, we saved 20% on our hotel room on our family vacation to Kansas City! Giving us more money to spend on fun things to do! – Daniel T

Cell Phone Protection
Receive up to $400 per claim ($800 per year) if your cell phone is broken or stolen.1,2

Identity Theft Aid
Includes payment card fraud resolution, $10,000 in personal identity theft benefit, and identity restoration. 1,2

Buyer's Protection and Extended Warranty
Newly purchased items are protected for up to $2,500 per item if theft or accidental breakage occurs during the first 180 days of purchase, plus one year extended warranty. 1,2

Shop Local, Save Local with BaZing Savings
Local discounts and national retailer deals to save you money on shopping, dining, travel and more.

Roadside Assistance
Available 24/7 and free to use, up to $80 in covered service charges.

Health Savings Card
Save money on prescriptions, eye exams, frames, lenses and hearing services.

$15,000 Travel Accidental Death Coverage
Peace of mind for the unexpected. 2

Anywhere Banking Tools
Online banking, mobile banking, bill pay, mobile deposits, debit card, Zelle® and eStatements or Paper Statements.

Rewards
Earn 5x My Bank Rewards points with every qualified purchase.

Electronic or Paper Statements
Enjoy a paper free lifestyle with up to seven years of online document storage, or you may receive paper statements.

ATM Access
Foreign ATM fees waived; free Sheetz & MoneyPass access.

Earn Interest on your Checking Balance
A competitive rate on your balance.

Additional Banking & Wealth Management Benefits
- Personal Credit Line (PCL) annual fee waiver
- Receive 2 official checks per monthly cycle at no cost
- Receive 5 stop payments per monthly cycle at no cost
- Unlimited assisted transfers by phone or in-person
- 20% discount on brokerage trades 2
- 100% discount on annual financial planning consultation
- Complimentary instant issue debit card (1 per year)
Only $9 per month.
Avoid the monthly service charge by maintaining a $2,500 average monthly balance in this account.
Explore All Our Checking Accounts:

Shop local. Save local.
Get local discounts and national retailer deals on shopping, dining, travel and more. YouFirst powered by BaZing brings you over 450,000 discounts where you live, work or travel. Simply show your mobile coupon to the retailer for instant savings or login at BaZing.com for printable coupons.
Small Business Owner? Join the Discount Network
Joining the BaZing discount network is a powerful way to promote your local business. It's free exposure for you and a valuable benefit for customers. Contact us to learn more on how your business can join the discount network.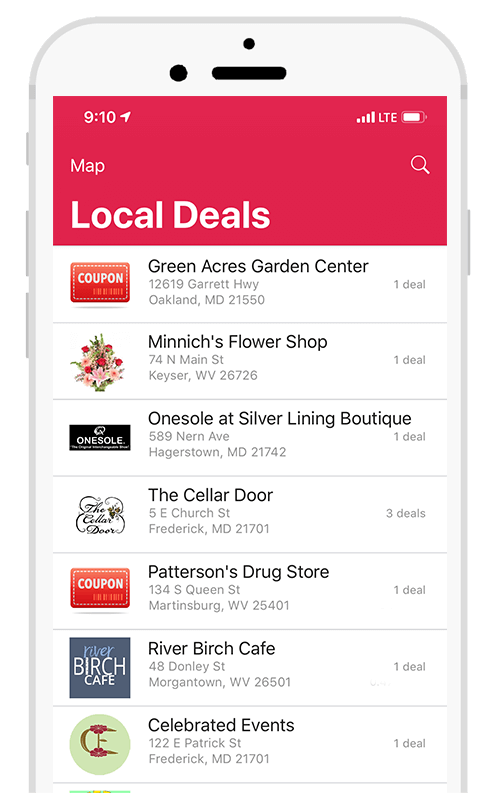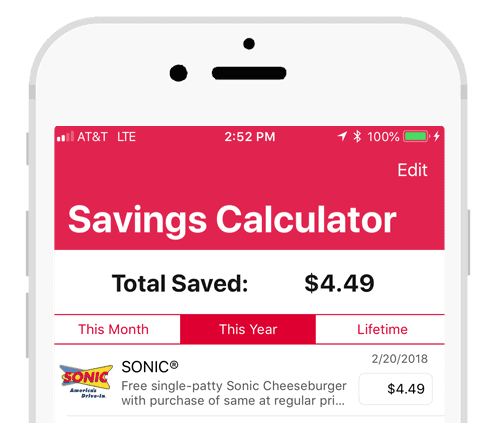 Track & View Your Savings.
You track your steps and your calories. Why not track your savings? See how much your YouFirst account is helping you save each month, year or over the lifetime of your subscription with our simple savings calculator. Simply enter how much you saved each time you use a coupon.
Step 2: Enjoy the benefits!
Once the account opening is finished, our staff will complete your BaZing enrollment and can assist you with downloading the mobile apps so you can access your new tools and explore your benefits. 
Tools You Will Need
YouFirst members can best manage their banking needs and rewards by accessing Bazing.com and downloading these apps!
My Bank Mobile App
View transaction history, pay bills or friends, make a mobile deposit and more using your mobile device. Learn more...
YouFirst App
Access the exclusive savings, discounts and protective services the YouFirst account offers anytime, anywhere!


Did you open your account online and now need to finalize it?
If you recently opened your account online and you're trying to finalize your account. You should have received an email with instructions, however, you can also click the link below to complete your account opening process.
Member FDIC. Participating merchants on BaZing are not sponsors of the program, are subject to change without notice, may not be available in all regions and may choose to limit deals. 1) Cell phone protection and personal identity theft benefit are subject to additional terms and conditions. 2) Insurance and wealth management products are: NOT A DEPOSIT. NOT FDIC-INSURED. NOT INSURED BY ANY FEDERAL GOVERNMENT AGENCY. NOT GUARANTEED BY THE BANK.
Membership in YouFirst is $7 per month and will be automatically withdrawn from your YouFirst account. To avoid the $9 monthly service charge on your YouFirst Plus account, maintain $2,500 minimum average balance in your account. Membership in YouFirst Platinum with maximum benefits is $10 per month and will be automatically withdrawn from your account. 
For electronic services, message and data rates may apply; contact your cellular provider for information on your mobile contract. Call us at 1-888-692-2654 if you are experiencing any issues. iPhone® is a trademark of Apple Inc., registered in the U.S. and other countries. App StoreSM is a service mark of Apple Inc. Android™ is a trademark of Google Inc.
Products offered by First United Wealth Management are not a deposit, not FDIC-insured, not insured by any federal government agency, not guaranteed by First United Bank & Trust, and may go down in value.
Please download these account disclosures and save them for your records.
* Accounts can only be opened in the following states and/or districts: West Virginia, Maryland, Pennsylvania, Ohio, Virginia, District of Columbia. Accounts cannot be opened by individuals under the age of 18. Charge for Non-First United (Foreign) ATM usage is $3.49 per transaction. Please note that the debit card ordered with these accounts will be our standard debit card. To customize your order, please contact our Customer Service Center at 1-888-692-2654 upon completing your account process.
Attention: When opening an Online Account, your digital access will be limited to read-only. If you need immediate access, please contact our Customer Service Center for verification. Otherwise, a member of our team will reach out to you on the next business day after account opening at the number provided at account setup.