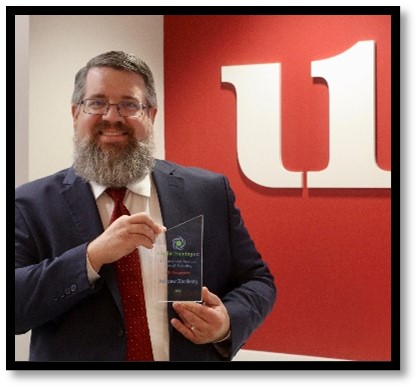 Chief Revenue Officer, R.L. Fisher, is delighted to share the news that Andrew Hardesty, Commercial Relationship Manager, has successfully finished the Commercial Credit Training Course provided by Credit Training, Inc.
What makes this accomplishment even more impressive is that Andrew not only achieved a rare 90+ designation on the final exam, but also attained the highest score in the May 2023 class. To earn this designation, Andrew dedicated three months to the comprehensive training program, which covered various aspects of commercial and industrial sectors along with a solid comprehension of commercial real estate.
"Andrew rounds out a wealth of experience in the business banking and services sector on our team. I applaud his dedication and congratulate him on having achieved top honors towards his professional development," stated Chris Morris, Director of Commercial Services for the Company's western region.
Along with Andrew's professional accomplishments, he volunteers his time supporting his local community along with having served on the boards of organizations such as Empty Bowls Monongalia and Mon Valley Habitat for Humanity. Andrew resides in Morgantown, WV with his wife Emily and their children Samuel, Joanna, and Nathan. His hobbies include studying history, traveling, and working outside in the yard. 
Congratulations Andrew!