Personal Banking
Digital Enhancements
Your Personal Digital Banking solutions continue to be enhanced to include the latest features available. This resource page outlines these changes, along with any additional resources and information you may need.
Personal Finance Tool
This new money management tool, available on Internet and Mobile Banking, is a secure and innovative new way of viewing all of your personal accounts, from multiple financial institutions, all in one place! With this tool, you can more easily:
Enjoy automatic categorization of your transactions
Know your monthly spending habits
Make budgeting fun with bubble budgets
Pay off debts more efficiently
Monitor your net worth
Save for your goals
Get notified when you overspend
Credit Insights
This new credit reporting, monitoring, and education tool is built right in to our Mobile App! First United has partnered with SavvyMoney to bring you a direct view into your credit reporting information – in real time!
Get instant access to your credit score, credit report, personalized money-saving offers, and financial education tips on how to improve your score or maintain an already great score.
Be sure your My Bank Mobile app is updated to the latest version to access this great feature!
Android Biometric
Customers using Android devices for Mobile Banking can now enable Fingerprint Sign-on to quickly and securely access account information. To begin Fingerprint Authentication, you must have a minimum Android OS of 6.0 (Marshmallow). Available Android phones that support Fingerprint identification include but are not limited to:
Samsung Galaxy S6 Edge Plus & Note 5
HTC One M9 Plus
Lenovo Vibe P1
Huawei Ascend Mate 7
Meizu MX5 & MX4 Pro4
Lenovo Galaxy Alpha
HTC One Max
Any future new Android OS (6.0+) devices supporting Fingerprint
Be sure your My Bank Mobile app is updated to the latest version to access this great feature!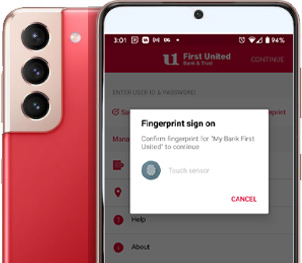 Premium Alerts
Our Internet Banking Premium Alerts enhancement takes alerts to the next level! Now alerts offer the option to receive text message notification! Opting-in for alerts allows for better account monitoring, a way to react quickly to prevent any potential fraud, and follow-up more easily on various finance-related activities. Once enrolled, you will be proactively alerted to important service and account events, such as:
Contact information has changed
Deposit account has been opened
External transfer activity
Password changed
New Notice or Tax form is available
Balance alert
External Transfer status
BillPay payment notice
Payee added or changed
E-Bill received
ATM/Debit card transaction processed
Transaction monitoring
Product and Service announcements
And more…
Log in to Internet Banking today to begin configuring your Premium Alerts for greater account visibility and security!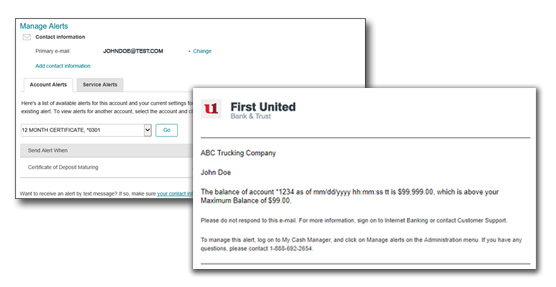 Enroll Today in Premium Alerts
Setup alerts by logging in to Internet Banking, then access the All Menu > Settings > Alerts
From the Settings menu, you will also find the Contact Information section where you may choose two of the three options for receiving alerts: Primary email, Secondary email, or Mobile phone number for SMS text messages.
Transactional Out-of-Band Authentication
We are always placing the highest priority on the safety and security of your accounts at First United. The Transactional Out-of-Band Authentication is a security feature that further protects your accounts from potential fraudulent activities. When performing one of these transaction types using our Mobile app, you may be prompted to validate your identity:
Submitting a Transfer between First United Accounts (based on transfer amount)
Making a Payment Request through Bill Pay (based on transfer amount)
Adding a new Payee
Nothing has changed with the way that these transactions work, we're just adding additional security when they occur! You will need to be sure you are equipped with iPhone® (iOS 9.1 or higher) or Android™ smartphones (Android 4.3 or higher). Additionally, we always recommend you download the latest version of the My Bank Mobile app to get the most out of your mobile banking experience.