Business Banking
Digital Enhancements
Your Business Digital Banking solutions continue to be enhanced to include the latest features available. This resource page outlines these changes, along with any additional resources and information you may need.
My Cash Manager New Look & Feel
First United is excited to announce the evolution of our My Cash Manager platform! New enhancements offer a more modern, responsive-design (including touch-screen technology), while providing a consistent experience when using a desktop, tablet, or mobile browser. This change will take effect for all users by August 2021.
Android/Apple Biometric
Customers using Mobile Banking can now enable Fingerprint Sign-on, Touch or Face ID to quickly and securely access account information. Mobile biometrics increase the speed of access to login, rather than key-in full user name and password to authenticate.
Android
Available Android phones that support Fingerprint identification include but are not limited to:

Samsung Galaxy S6 Edge Plus & Note 5
HTC One M9 Plus
Lenovo Vibe P1
Huawei Ascend Mate 7
Meizu MX5 & MX4 Pro4
Lenovo Galaxy Alpha
HTC One Max
Any future new Android OS (6.0+) devices supporting Fingerprint
Apple
Available Apple iPhones that support Touch ID or Face ID include:
iPhone 5S and newer with iOS 8 or later (Touch ID)
iPhone X iOS 11 or higher (Touch ID or Face ID)
Be sure your My Bank Mobile app is updated to the latest version to access this great feature!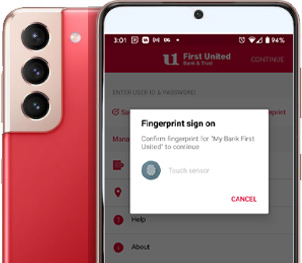 Premium Alerts
Our Internet Banking Premium Alerts enhancement takes alerts to the next level! Now alerts offer the option to receive text message notification! Opting-in for alerts allows for better account monitoring, a way to react quickly to prevent any potential fraud, and follow-up more easily on various finance-related activities. Account Alerts are sent to the My Cash Manager mailbox and may also be delivered to a primary, secondary email or mobile phone, based on the information provided.
Sample Alert categories and types include:
Balance and Activity Alerts – Check Presented, Credit/Debit Posted
Transfer and Payment – ACH Approval Pending, Outgoing ACH Transaction Approved
Wire Transfer – Incoming Wire Report Available, Outgoing Wire Status Change
Account Reconciliation and Positive Pay – 

Account Reconciliation, 

ACH Positive Pay

Stop Payment – Stop Payments, 

Stop Payment Cancellation

Statement and Document – 

Statements Available, 

Notice Available
Log in to Internet Banking today to begin configuring your Premium Alerts for greater account visibility and security!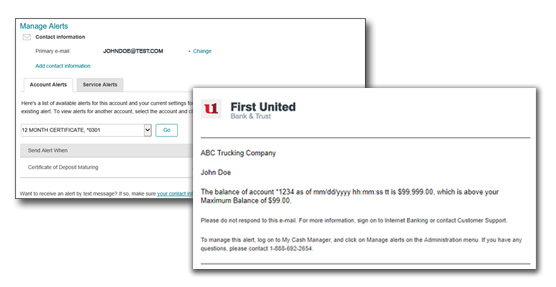 Enroll Today in Premium Alerts
Setup alerts by logging in to Internet Banking, then access the All Menu > Settings > Alerts
From the Settings menu, you will also find the Contact Information section where you may choose two of the three options for receiving alerts: Primary email, Secondary email, or Mobile phone number for SMS text messages.
Transactional Out-of-Band Authentication
We are always placing the highest priority on the safety and security of your accounts at First United. The Transactional Out-of-Band Authentication is a security feature that further protects your accounts from potential fraudulent activities. When performing one of these transaction types using our Mobile app, you may be prompted to validate your identity:
Submitting a Transfer between First United Accounts (based on transfer amount)
Making a Payment Request through Bill Pay (based on transfer amount)
Adding a new Payee
Nothing has changed with the way that these transactions work, we're just adding additional security when they occur! You will need to be sure you are equipped with iPhone® (iOS 9.1 or higher) or Android™ smartphones (Android 4.3 or higher). Additionally, we always recommend you download the latest version of the My Bank Mobile app to get the most out of your mobile banking experience.