Mobile Payment Solutions from First United
Apple Pay® | Android Pay™ | Samsung Pay®
When your phone and debit card join forces, you get one powerful tool: Mobile Wallet. It's easy to do and makes for a much smoother way to pay.
Just select the Mobile Wallet icon from our Mobile App or load your debit card information into the mobile wallet of your phone (or whatever mobile device you prefer to carry around with you) and now your device doubles as that card.
Benefits to you
Add your contactless debit card (includes wave-like symbol) to tap

to pay securely and touch-free.

 
Enjoy a seamless buying experience at eligible merchants.
Get the same rewards, benefits and protections of your First United debit card.
It's secure and safe.
Set it up easily and leave your cards at home.
You already have your phone in hand. Show it at the checkout reader to make purchases. See below for more on how to set yourself up!
For you 
For your business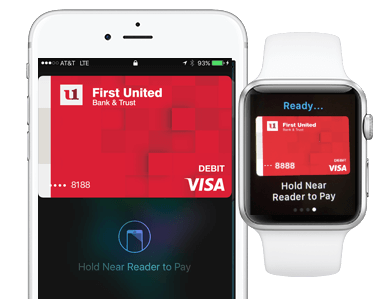 Apple Pay
Hold your compatible iPhone®, iPad® or Apple Watch® near the checkout reader to make in-store purchases. You can also use Apple Pay to make in-app purchases.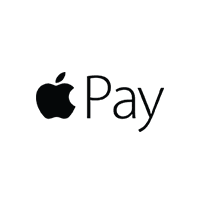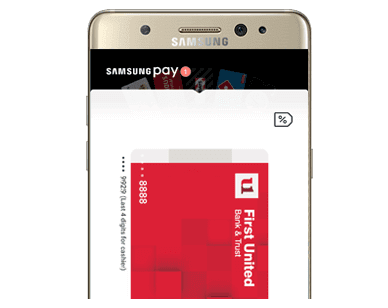 Samsung Pay
Hover your compatible Samsung phone above the checkout reader and authorize with your fingerprint to make in-store purchases, quickly and easily.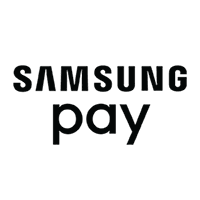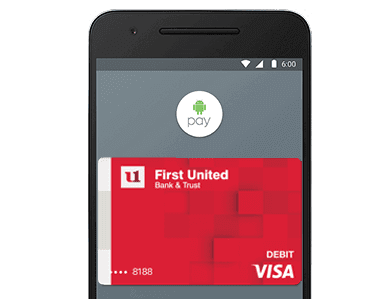 Android Pay
Unlock your compatible Android phone, place it near the checkout reader and tap to make in-store purchases. You can also use Android Pay to make in-app purchases.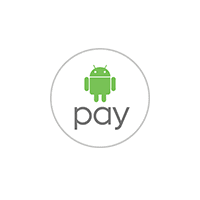 Thank you to the staff at the Bel Air branch for making our dream of getting a Camaro come true! You all are so friendly and great to work with. Thank you!
Sharon and Matt W.
Disclosures
Message and data rates may apply; contact your cellular provider for information on your mobile contract. Call us at 1-888-692-2654 if you are experiencing any issues. iPhone® is a trademark of Apple Inc., registered in the U.S. and other countries. App StoreSM is a service mark of Apple Inc. Android™ is a trademark of Google Inc.
Mobile payments like Apple Pay, Samsung Pay and Android Pay convert your debit card into a digital token. This allows merchants to accept in-store and online payments and transactions to be initiated with mobile devices via that token through a contactless payment or NFC technology.
Contactless payments are transactions that use chip-based technology and require no physical connection between the payment device (a card or mobile device) and the physical merchant terminal.
Near Field Communication (NFC) technology enables devices in close proximity to communicate. Payment transactions using NFC technology require a contactless merchant terminal and an NFC-enabled mobile device.
The safety and security of your account information is of the highest importance.
As a security measure, you may receive a "verification required" message when adding your card to any of these payment solutions. Once verified, an on-screen message will appear stating that the card is ready for use. This verification is part of our multi-layered approach to security in payments.
When you make payments using a mobile wallet: Your full card number is not shown to the merchant. And all transactions are monitored by our risk and fraud detection systems.
Additionally, consumers will be required to set up a passcode or Touch ID for their device. You will need to unlock your phone to make most purchases.
For Apple Users: Find the Wallet App on the Home Screen > Add Credit or Debit Card
For Samsung Users: Navigate to and touch Apps > Samsung Pay and Install
For Android Users: Navigate to the Google Play store and Install the Android App
Depending on several factors, certain cardholders may receive this message during enrollment. This is a risk mitigation process that requires additional authentication. The consumers that are redirected must manually confirm their identities before their card can be added to the service. Cardholder identity will be verified against cardholder information stored on the payment platform. Once identify is confirmed, the service will be activated. The number for this verification process is 1-844-590-5256. Please note: This number may be noted on your device or app in reference to verification of your card, such as 'Contact First United Bank & Trust' or 'Call your bank'.
As the cardholder, you may be asked for the last transaction made with the card they are trying to set up, along with the purchase amount and either the date or merchant name. Additionally, you may be asked for the last four (4) digits of your social security number, date of birth, mother's maiden name, home telephone number, expiration date of your card and/or zipcode. You are able to call back and verify your information at a later date if you are unsure of information for an answer.
No. When the account holder initiates transactions with their mobile device, their digital account number (the token) and not the primary account number, will be used to process the transaction. Your debit card numbers are also not stored on the device.
No, your debit card is not compromised. However, you will need to report that your phone as lost so that your token can be deactivated and a new one created. This can be achieved by either calling the 1-844-590-5256 or users can use the 'Find My Device' feature on Apple or the Android Device Manager, which, when active, allows users to suspend or delete tokens themselves. You may continue to use your debit card until a new token is created.
Yes. When using this service, you will continue to receive applicable My Bank Rewards points that your debit card provides.
Yes. The cashier can use the Device Account Number to find the purchase and process the return, just as they would with a traditional card.
No. For a card renewal, the new expiration date will be automatically provided from VISA, with no action required by you.
You can use Apple Pay in participating stores, within apps and on websites using the Safari browser on your device. Apple watches may also be used for payments. For more, visit the Apple FAQs. In stores, look for one of these symbols at checkout:

You can use Android Pay in eligible stores, often where you see contactless terminals. Android Wear watches may also be used for payments at eligible locations. For more, visit the Android FAQs. In stores, look for one of these symbols at checkout:

You can use Samsung Pay in eliglbe stores, often where you see contactless terminals. To make a payment, place the back of your device on the card or NFC reader on the payment terminal. The Galaxy Gear S2 (with NFC only) & Gear S3 watches may also be used for payments. For more, visit the Samsung FAQs.